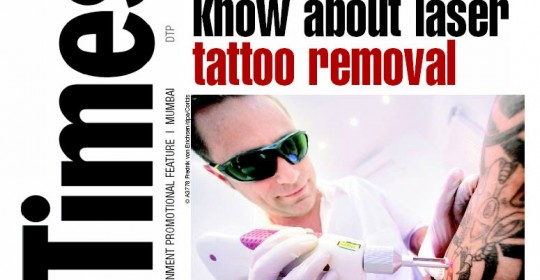 It was a spur-of-the-moment "cool, but controversial" tattoo Harsh went for, but now he hides it under long-sleeved shirts and jackets. Sohni got her boyfriend's name tattooed on her forearm but since their break-up recently, wants to get rid of it. Like these two, many others with similar problems who want to "erase" their tattoos, opt for laser treatment. Unfortunately, few know the hard facts about the procedure. Most importantly, that it's impossible to completely remove a tattoo.
How it works
Cosmetic and laser surgeon Dr Lakshyajit D Dhami explains, "Lasers emit energy of various wavelengths that pass into the skin and is absorbed by a specific coloured pigment in the tattoo. This fragments the pigmentation into nano-particles which are gradually removed by the body's natural filtering systems (phagocytosis)." The kind of tattoo one has determines the kind, intensity or wavelengths of the laser, and the number of sessions required. A local anaesthetic cream is applied over the tattooed skin before the treatment, thus it is not painful.
Lightening possible, removal isn't
Cosmetic physician Dr Rashmi Shetty says, "First of all, one has to understand that it is impossible to actually remove a tattoo — you can lighten it, nothing more. You will never get back the flawless skin that you had before you got the tattoo done. There is always a ghost mark. Even if it goes off the skin becomes discoloured." Street-side tattoos are very light and superficial and that is why they are also easy to remove with the help of laser.
You're stuck with coloured tattoos
Experts say that if the tattoo is professionally done, it has very good quality pigments and is usually deep and so, it needs many laser sessions to lighten it. And if it is a large one, it may take months. Because after every laser session, one needs to maintain a gap of a few days. Dr Shetty states, "Coloured tattoos are impossible to remove completely. Every pigment needs a different laser. Many doctors don't even have those specific lasers. There are certain pigments that just never lighten. Professional tattoos may require use of a combination of lasers with different wavelengths as different pigments require different wavelengths."
Follow-ups are important
Dr Amit Saraf, an internal medicine consultant, cautions that one must get the procedure done only from a qualified doctor with proper approved instruments. He adds, "A follow-up testing for diseases such as HCU/HBsAG, after the tattoo has been removed, is important."
Its costly
While a bindi-sized tattoo may set you back by around 6,000, a large multi-coloured one may cost upto 50,000 or more. Since it is more expensive to remove an inking, be absolutely sure before you get a permanent tattoo.
Stay cautious
If the appropriate wavelength laser is used, 95-100% clearance of the tattoo may be accomplished. However, one has to be cautious while treating white pigment tattoo. If it is made of titanium dioxide, laser treatment may turn the pigment black.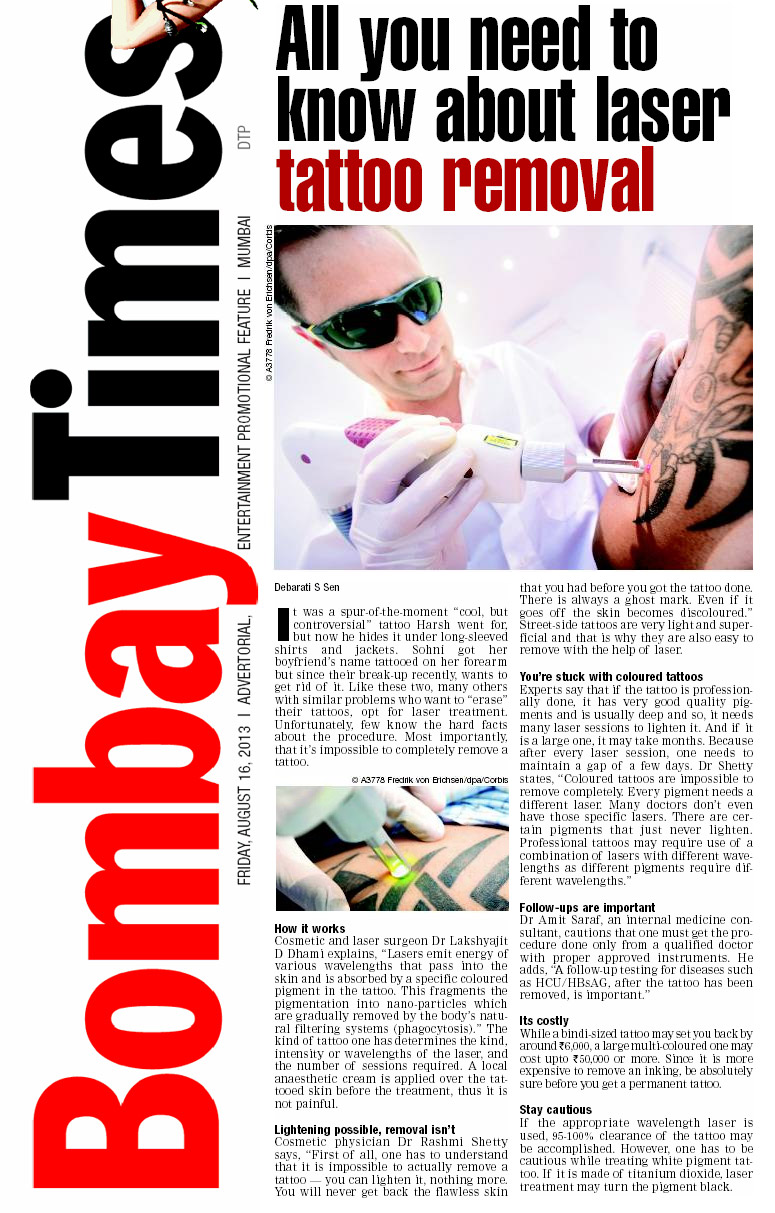 Leave a reply →