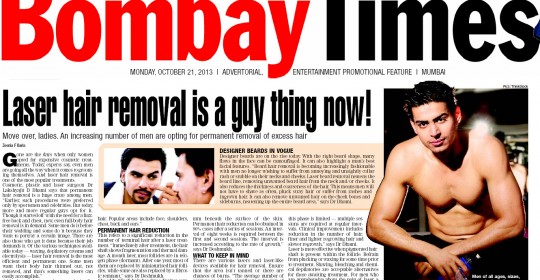 Move over, ladies. An increasing number of men are opting for permanent removal of excess hair
Gone are the days when only women opted for expensive cosmetic treatments. Today, experts say, even men are going all the way when it comes to grooming themselves. And laser hair removal is one of the most popular treatments.
Cosmetic, plastic and laser surgeon Dr Lakshyajit D Dhami says that permanent hair removal is a huge craze among men. "Earlier, such procedures were preferred only by sportsmen and celebrities. But today, more and more regular guys opt for it. Though it started off with the need for a fuzzfree back and chest, now, even full-body hair removal is in demand. Some men do it before their wedding and some do it because they want to portray a certain image. There are also those who get it done because their job demands it. Of the various techniques available today — waxing, depilatory creams and electrolysis — laser hair removal is the most efficient and permanent one. Some men want their body hair thinned out, not removed, and that's something lasers can easily accomplish."
Adds dermatologist and cosmetologist Dr Sadhana Deshmukh, "Men of all ages, sizes, sexual orientations, ethnic backgrounds and professions are getting rid of excess body hair. Popular areas include face, shoulders, chest, back and ears."
PERMANENT HAIR REDUCTION 
This refers to a significant reduction in the number of terminal hair after a laser treatment. "Immediately after treatment, the hair shaft shows fragmentation and thermal damage. A month later, most follicles are in telogen phase (dormant). After one year, most of them are replaced by miniaturised hair follicles, while some are also replaced by a fibrotic remnant," says Dr Deshmukh.
She adds, "Each hair has three distinct components — the bulb, the isthmus and the infundibulum. The cells in the bulb and bulge areas cause the hair follicle to grow. For most people, the bulb is approximately 4 mm beneath the surface of the skin. Permanent hair reduction can be obtained in 90% cases after a series of sessions. An interval of eight weeks is required between the first and second sessions. The interval is increased according to the rate of growth," says Dr Deshmukh.
WHAT TO KEEP IN MIND 
There are various lasers and laser-like devices available for hair removal. Ensure that the area isn't tanned or there are chances of burns. "The average number of sessions to achieve significant reduction of hair is between five and seven, performed at an interval of one to three months. Since laser is effective only with hair in the anagen (growing) phase — the percentage of hair in this phase is limited — multiple sessions are required at regular intervals. Clinical improvement includes reduction in the number of hair, finer and lighter regrowing hair and slower regrowth," says Dr Dhami. Laser is more effective when pigmented hair shaft is present within the follicle. Refrain from plucking or waxing for some time prior to treatment. Shaving, bleaching and chemical depilatories are acceptable alternatives for those awaiting treatment. For men who are apprehensive about the pain of laser, a local anaesthetic cream can be applied prior to the treatment. If the procedure is improperly executed, there is a possibility of blisters, burns or pigmentary changes.
DESIGNER BEARDS IN VOGUE
Designer beards are on the rise today. With the right beard shape, many flaws in the face can be camouflaged. It can also highlight a man's best facial features. "Beard hair removal is becoming increasingly fashionable with men no longer wishing to suffer from annoying and unsightly collar rash or stubble on their necks and cheeks. Laser beard removal neatens the beard line, removing unwanted beard hair from the neck and/or cheeks. It also reduces the thickness and coarseness of the hair. This means men will not have to shave as often, pluck stray hair or suffer from rashes and ingrown hair. It can also remove unwanted hair on the cheek bones and sideburns, neatening up the entire beard area," says Dr Dhami.
Leave a reply →