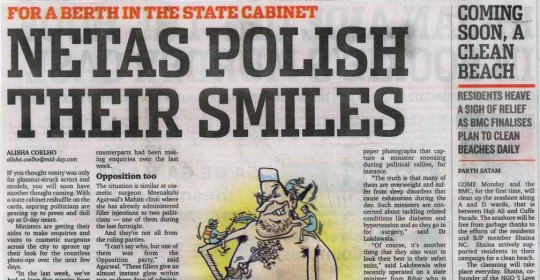 If you thought vanity was only for glamour-struck actors and models, you will soon have another thought coming.
With a state cabinet reshuffle on the cards, aspiring politicians are gearing up to preen and doll up as D-day nears.
Ministers are getting their aides to make enquiries and visits to cosmetic surgeons across the city to spruce up their look for the countless photo-ops over the next few days.
"In the last week, we've had at least five queries from aides and secretaries of ministers from the ruling coalition," said Dr LD Dhami, consultant cosmetic surgeon at Hinduja Hospital, Mahim.
"They enquired about procedures available and about the time it would take for the same."
Dhami has in the past, helped a few politicians with their receding hairlines with transplants.
"A transplant takes time. So, derma fillers that require little time to take away wrinkles near the eyes ((crow's feet) neck and forehead are most popular," said Dhami, who said that a politician from Aurangabad and his Mumbai counterparts had been making enquiries over the last week.
Opposition too
The situation is similar at cosmetic surgeon Meenakshi Agarwal's Mahim clinic where she has already administered filler injections to two politicians one of them during the last fortnight.
And they're not all from the ruling parties.
"I can't say who, but one of them was from the Opposition party," said Agarwal. "These fillers give an almost instant glow within two or three days of administering them. And it takes only three sittings."

Not just skin deep

Obesity surgeon Dr Mufazzal Lakdawala, who had earlier performed bariatric or weight loss surgery on MLA Nawab Malik of the Nationalist Congress Party, says that even requests for procedures that take time for completion have increased.
Lakdawala, who performed bariatric surgery on at least two other current cabinet ministers, says that the reasons are also not purely cosmetic anymore.
He cited instances of newspaper photographs that capture a minister snoozing during political rallies, for instance.
"The truth is that many of them are overweight and suffer from sleep disorders that cause exhaustion during the day.
Such ministers are concerned about tackling related conditions like diabetes and hypertension and so they go in for surgery," said Dr Lakdawala.
"Of course, it's another thing that they also want to look their best in their safari suits," said Lakdawala who recently operated on a state minister from Bihar who is with the Bharatiya Janata Party.
"The minister came back after eight months for a follow-up and has finally begun to look like the minister for the portfolio she handles."
Price of beauty
Average costs of beauty treatments across the city:
Liposuction: Up toR 50,000
Derma fillers: R 10,000-15,000 for one sitting (one filler requires at least three sittings)
Bariatric surgery: R 1-2 lakh
Number Game
Rs 1-2 lakh
The amount required for bariatric surgery
Rs 15,000
The cost of derma fillers for one sitting(one treatment requires at least three sittings)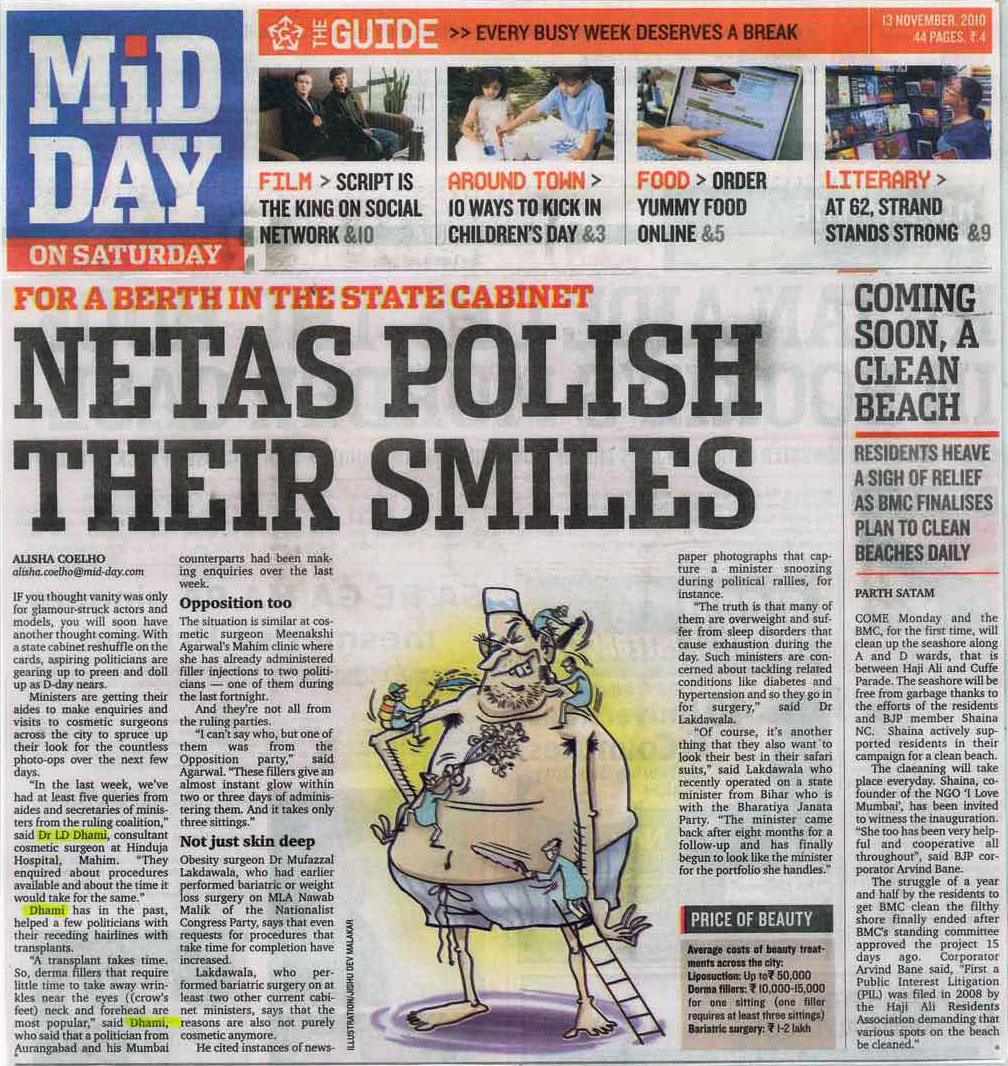 Leave a reply →