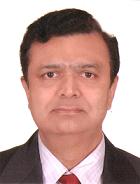 Dr L. D. Dhami is a practising Cosmetic, Plastic & Laser Surgeon in Mumbai since 1986. He is attached to B. Nanavati Hospital, Mumbai, as a Consultant Cosmetic & Plastic Surgeon since 1987. Dr. Lakshyajit Dhami is very well known in his speciality as an innovator, a teacher and as a sought after Cosmetic Surgeon.
Dr Dhami has been in the field of plastic surgery since 1981 and is qualified as M.Ch. (Plastic Surgery) from the University of Mumbai. He received his undergraduate training & degree from the University of Mumbai (Bombay) and his M.S. degree from the same university. During his residency, he was based at L. T. Medical College, Sion, Mumbai & later during year 1985-86 at St. Lawrence Hospital, Chepstow, UK. Along with training in Cosmetic (Aesthetic) Surgery, Dr. L. D. Dhami has completed a specialised course in Microsurgery as a Clinical Research Fellow at North Wick Park Hospital, London, UK.
Dr Dhami is a senior life member of APSI since 1983. Dr Dhami has been awarded & honoured with a very prestigious Professorship in Cosmetic/Aesthetic Surgery by APSI. He is also a recipient of the Rajiv Gandhi Excellence Gold Award in recognition of his contribution in the field of medicine.
In addition to his attachment at P D Hinduja Hospital & B. Nanavati Hospital, he has his private practise at VASUDHAN ARJIN Cosmetic & Laser Surgery Centre located at Borivli & VileParle, Mumbai. This centre is equipped with the latest, top of the line Twelve (12) different Cosmetic Laser Systems for the treatment of various clinical conditions, the only one of its kind in India. Along with Laser procedures, non surgical rejuvenation of face with Botox, Fillers & Mesotherapy is also undertaken by Dr. Dhami with excellent results.
Dr. Dhami also trains M.Ch. qualified plastic surgeons from all over India, & some from abroad as well, in Cosmetic & Laser Surgery at his Clinic & at Hinduja & Nanavati Hospital. He conducts live Workshops & demonstrates various Cosmetic Surgeries in different states and cities all over India. He is a respected member/fellow of many international, national and regional societies and has actively held many Executive positions.
Dr. Dhami was introduced to Laser Surgery in the year 2000, while attending Laser Workshops at international Conferences, and has a strong interest in this field ever since. He is one of pioneer Cosmetic surgeon to be qualified & experienced to use Laser for Cosmetic Surgery. He has travelled extensively nationally & internationally to teach many Plastic Surgeons and Dermatologist these techniques. Surgeons visit his VASUDHAN ARJIN Cosmetic Laser Centre regularly to observe and learn how these procedures are done. He is the Founder President of IACLS (Indian Association of Cosmetic Laser Surgeons) and has successfully conducted Cosmo Laser Con for three consecutive years as a Chairman of the organizing committee.
In addition to his Laser specialisation, Dr. Dhami has professional expertise in the fields of Breast surgery, Liposuction, Abdominoplasty, Eyelid Surgery, Facelift and Rhinoplasty. He is the first surgeon in this country to perform large volume Liposuction (MegaLiposuction) for body reshaping as well as to help reduce weight permanently. He has done the largest number of Mega-Liposuctions in India. He is one of the very few Plastic Surgeons to have performed Sex reassignment Surgery & has gained vast experience in the field.
Dr. Dhami was also the first plastic surgeon to utilize computer imaging to plan Rhinoplasty & Facial contouring Surgery. He has been invited to publish articles & present guest Lecture on the use of computers in plastic surgery.
Dr Dhami keeps visiting different centres all over the world, to keep up with the latest technique and procedures, master the art and then introduce them in India. He is also the first to introduce Thread Lift – Aptos/ Contour thread (non surgical face lift) Surgery, Vertical Scar Reduction Mammoplasty & Sub-Fascial Breast Augmentation procedure in the country. He has many scientific Papers, Articles & Publications to his credit.
Dr. L. D. Dhami has been treating not only Indian patients, but also NRI's & Foreigners at India's first ISO certified "Vasudhan Arjin Cosmetic & Laser Surgery Centre".
Dr. Lakshyajit D. Dhami strongly believes that:
"The first and the most important step for a successful cosmetic surgery is to educate the patient, so they can decide what the best course and procedure is for themselves."